Secure payment
IS THE BANK PAYMENT SECURED?
LES PRODUCTEURS DE CARACTERE respects the confidentiality of any information you transmit to us. The payment is completely secured thanks to the online payment system of our partner bank, CIC. Your bank information is circulating on the Internet only in an encrypted way. So, they are coded to make them completely unreadable. In addition, they are uniquely processed by the CIC and are never under the possession of LES PRODUCTEURS DE CARACTERE. In fact, when you enter your credit card number to make purchases on the website LES PRODUCTEURS DE CARACTERE, you are transferring the informations directly to the CIC and not to LES PRODUCTEURS DE CARACTERE. You can pay online with confidence by entering your credit card information requested in the spaces provided for this purpose. Technical Details: The security system uses a SSL (Secure Socket Layer) 128-bit. Encryption is fully supported by the CIC.
Security of transactions with 3D Secure.
3D Secure is a protocol for secure Internet payment. Developed by Visa and MasterCard, it aims to strengthen the security of internet banking via a double authentication. 3D Secure strengthens the identification process to ensure that no one other than you is using your credit card information.
CURRENCY
The payment of your order takes place only in Euro (€). It does not matter in which country you are.
The currencies, U.S. Dollar / $, Swiss Franc / Fr and POUND / £ are present on the site LES PRODUCTEURS DE CARACTERE only as a reference.
TYPES OF PAYMENT
LES PRODUCTEURS DE CARACTERE allows 3 payments :
1°) Payment by credit card 100% Secure
Payment is made by the CIC bank. To ensure you a secure payment, CIC 3D Secure will ask you a double identification. Your order will be registered after CIC acceptance payment. We accept these bank cards: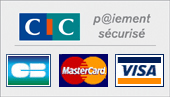 2°)Payment via Paypal
Payment is made in confidence by Paypal. Paypal terms & conditions will apply. You do not need to have a paypal account to pay, you just have to choose payment by credit card via paypal. Your order will be registered after paypal acceptance payment.
3°) Payment with a gift certificate
Someone offers to you a gift certificate by LES PRODUCTEURS DE CARACTERE? How to use it?
With you gift certificate, you can pay all or part of your order, and complete the rest with your credit card.
Number of your gift certificate is unique.
You can use your gift certificate only for one order.
Gift certificates are cumulative in validity time, so 6 month after the issue date.
You cannot combine your gift certificate with other promotional offers.
PAYMENT REFUSED
WHY MY PAYMENT HAS BEEN REFUSED? WHAT TO DO?
First, it may be due to a mistake in your personal and / or bank information provided. Check their accuracy. If the problem persists, do not hesitate to contact us or get in touch with your bank.
VOUCHER
HOW CAN I USE MY VOUCHER?
To benefit from your discount, simply enter the code of your voucher when validating your order. Vouchers are not retroactive and cannot be applied once the order is placed. Vouchers are only applicable on the value of products, which must be at least the value of the voucher and cannot be used to pay shipping costs. Some vouchers are valid from a certain amount of purchase. Vouchers are valid within the limits of available stocks. Vouchers are valid until their expiration date.
WHY MY CODE VOUCHER DOES NOT WORK?
The code of your voucher cannot be combined with other codes or with other non-cumulative offer. In this is case, it will not be valid when ordering. Make sure your promotional code is still valid. Do not hesitate to contact us if the problem persists.